home
portfolios
Guestbook
About the Artist
contact
Rates Page
sandy's blog
Sandy Cathcart is a freelance writer, photographer and artist who paints under the name of SCAT. She has published several books as well as hundreds of articles and photos in national and regional magazines. Sandy and her husband, Cat, work as cook and guide for 4E Guide and Supply, a wilderness outfitter. She writes about Creator and everything wild.
Sandy has traveled extensively, fishing the Sea of Ohotsk in Far East Russia, sailing over Lake Baikal in Siberia, cycling the backroads of China, rowing across the rivers of Vietnam, swimming in Israel's Dead Sea and the Gulf of Mexico, trekking across Peru and Haiti, and hiking across Lantau Island. With The Cat Man, she rafts rivers in tahitis, hunts deer and elk, skis cross-country and downhill, canoes marshlands, tracks antelope across the desert, fishes rivers and lakes, sailboards and water skis, climbs mountains, hikes on a daily basis, and just about anything else there is to do in the outdoors.
Artist and colorist, Sandy Cathcart, loves the beauty of creation and everything wild. Her immense privilege of living in the highlands of Southern Oregon, daily observing wildlife and the changing colors of sun and moonlight across the landscape, enables her to capture the nuances of color and shading not possible in a photograph. Pastel is one of her main choices of mediums because she loves the richness and vibrancy of their pigment and the intimacy of nothing to break the flow from fingers to paper. She is quick to note that with proper care, pastels maintain their beautiful color for decades. In 1968, Sotheby's sold at auction a Degas pastel for $7,500,000! It was as fresh and alive as the day Degas painted it over 120 years earlier.
Sandy's interest in art emerged as a young girl capturing images of birds in her notebook. Her interest continued through high school when her instructor told her she should become a freelance artist, but it took a back seat when she started raising a family. Then in 1995, she began to devote herself full time to painting and writing. Regional and national publications, such as Oregon Fish and Wildlife Journal and Cascade Horseman, have often featured her artwork and photographs along with her writing.
Camaraderie, emotion, and majestic color are common threads found in Sandy's fine art as she paints under the name of SCat. What is it that drew her to this particular subject in the first place? What intrinsic beauty has Creator placed beneath the surface for her to discover?
On her annual treks into the Oregon wilderness by horseback, Sandy carries a sketchpad, and in her many travels to foreign countries, she takes the time to get to know her subjects, eating their food and walking their paths. On a solo trip to China, she spotted two Chinese men walking through the back streets of Hangzhou. They were each carrying a live chicken on their way home from work. Without realizing it, she followed them right up to their doorstep where they invited her in for a family dinner. This is often the way of it for Sandy as she becomes so engrossed in capturing the moment that she loses sense of time and place.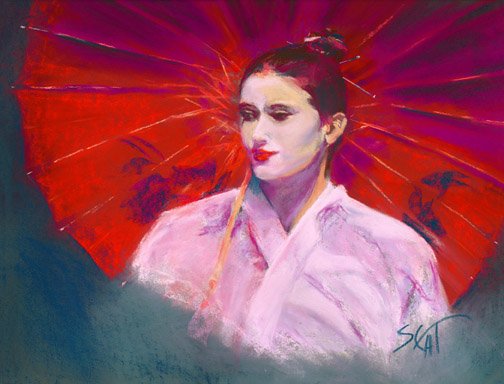 The painting of her granddaughter, Ariel as Confident Pitti-Sing, took a coveted first place as a pastel original in the 2006 Upper Rogue Artists' Association's annual critique luncheon. Ariel looked so grownup in her Grace Christian School play that Sandy didn't even recognize her. So she painted a grownup version of Ariel, capturing her beauty from the inside out.
On Good Friday of 2006, Sandy started a pastel of another granddaughter, Jocelyn Danielle. As is her custom, Sandy prayed for her granddaughter while she painted. On Sunday, while Sandy was placing the final touches on her painting, she received a phone call telling her that Jocelyn had been in a terrible accident that very day. She was riding in the front seat with her best friend, Dianna and her dog. Dianna's sister and brother were in the back seat while Dianna's very drunk mother was driving. None of the children were wearing seatbelts. Jocelyn was sitting in the middle--the worst possible position--when Dianna's mother passed out at the wheel. They were traveling sixty miles an hour when the rammed into the back of a fire truck. Jocelyn hit the windshield, but didn't go through.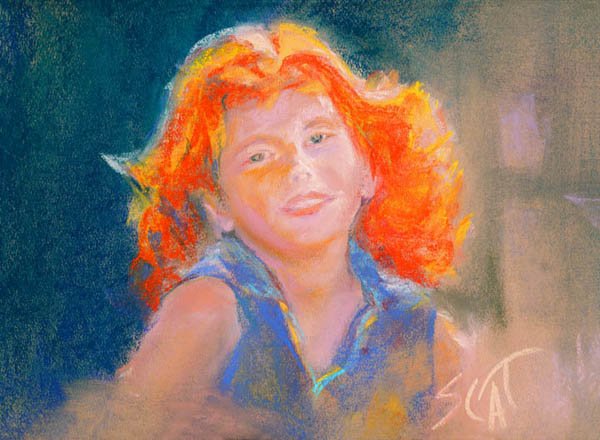 Sandy believes God heard her prayers while she was painting, and though she doesn't understand why Creator allowed the accident, she believes He sent angels to protect the children. Jocelyn's scalp was torn loose from her left eye through the back of her head. Doctors feared brain damage, nerve damage and some paralysis . . . but none of that happened. Jocelyn is a very active, witty girl who is full of life. The other children and mother are all healed as well, though one girl was in a wheelchair for many months. The dog died.
The three firemen in the truck said they had never seen such a terrible accident where no one died. That is the grace of God! It was also the grace of God that they rammed into a fire truck where the firemen were immediately on the scene to administer first aid. Sandy's pastel of Jocelyn Danielle, titled Sunshine, won first place in pastel professional in the 2008 Upper Rogue Artists' Association's annual critique luncheon.
Sandy views her art as an act of worship—a way of returning a bit of beauty to Creator who so graciously gives the gift of creativity. Now, she not only enjoys her work as an artist, she is passing that desire on to her grandchildren. Together, they paint wild colors and interpretations of the emotions found in the created world.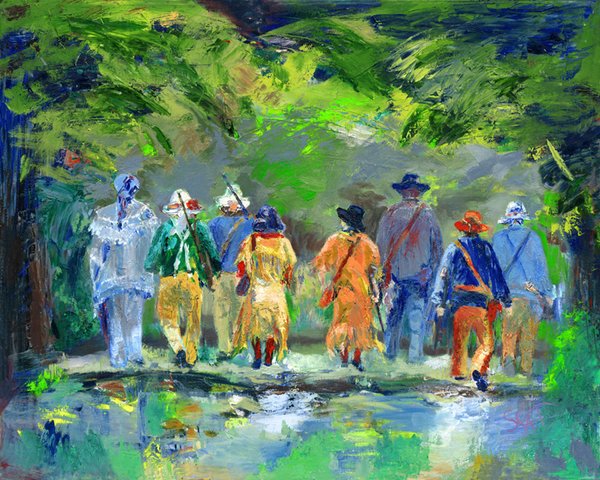 A Walk on the Wild Side is the title of Sandy's new series of oil paintings done almost completely with a palette knife as she attempts to depict the soul and spirit of the animal or person she is portraying. These are some of the most fulfilling works she has ever created. Each work of art has a story of adventure and connection behind it.
Sandy's photographs also have a story of connection, camaraderie, and adventure behind each one. Be sure to ask her about them when you purchase your favorite!